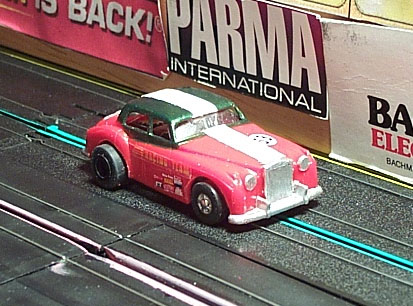 This started out as a normal AML Rolls Royce kit. The car comes in solid red. I painted the bumpers & lights with Pactra Indy Silver. The roof was done in a pearly and very glossy green nail polish. The stripe is white acylic paint for a base, then clear nail polish infused with very fine red, blue, green, and silver glitter (which you cannot see here). My wife gave me the idea to use nail polish to paint my cars. One of the great things about it is you get a great shiny finish (if you do it right--it took me a few attemps because that stuff dries fast).
---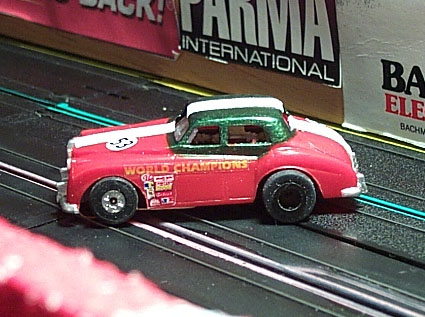 It's too bad I didn't take any "before" pictures. You really can't appreciate how much the body is lowered without the frame of reference. You can see what a great finish the green nail polish has in this shot. The contingency decals are HO peel-n-stick. The "World Champions" is from leftover R/C stuff. The number is waterslide from RRR "Hermie the Love Bug" kit.
---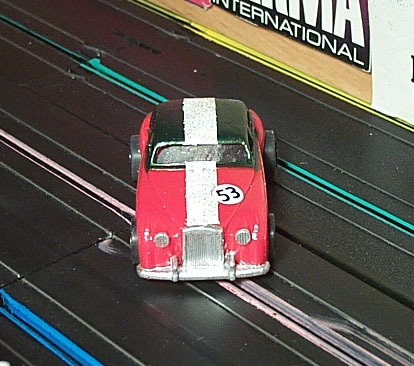 The front end, as you may have noticed is a Tuff Ones. The tire are skinny low profile T-Jet silicones from Nostalgia Hobby. You may have also noticed that the car has glass, even though the kit does not include glass. I retro-fitted some left over old Aurora glass I had lying around that didn't fit any body I had. So I cut out a portion of the middle of the glass to fit it to the shorter roof of the Rolls. I then glued (any CA glue) each piece in place. Why bother? I wanted to make it race legal in the NJ/PA Delaware Valley series (Paperboy/Octara Hills), and their rules require injection molded, hard plastic glass that covers the front and rear openings completely.
---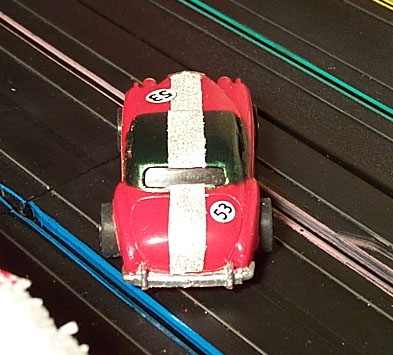 In this shot you can make out some of the glitter in the stripe. The rear setup uses BSRT Fastrax double-flanged hubs (.225 OD). This hub is not new, but BSRT has developed a new T-Jet sized tire to fit the old hub. The OD of the mounted tire is .395. Nice and low for a slip on.
---