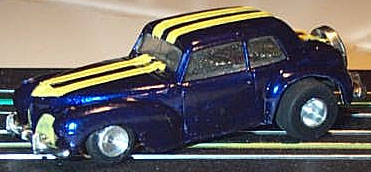 I was inspired to do a car like this by what my friend Ratman did with his Lincoln. After that I just had to do one too. I started to look around to find one at a decent price. I finally got one at the 12/10/2000 race at Paperboy. Bud Terry had a bunch of stuff to sell, and a Lincoln was among that. I bought this *gulp* tan one off him amidst warnings and horror stories about the infamously brittle tan Aurora plastic. Amazingly enough, it took the brutal Dremeling and a bunch of visits to my concrete basement floor with no cracking or breaking at all! =8-O
---
If I were building a "normal" race car, I probably wouldn't have chosen to use the wheel/tires that the car now wears. But for now, I just want an aesthetically pleasing car. It's got a good arm in it, so I may end up putting an independent front end and a wider rear axle on it sometime soon. And thanks to Bob Marsley's magnet testing, I know I should be putting in the strongest stock magnets I can find in there.
---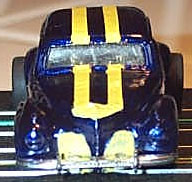 As of right now, this car is not very fast. It's not slow by any means, but it couldn't keep up with the top cars at the races. The great thing about it is it's very easy to drive and incredibly stable. It makes it easy for me to turn very consistent laps, and very many of them. I raced this in the last ORS race and did very well (almost got a point!). Consistency is the key to success in the ORS.
---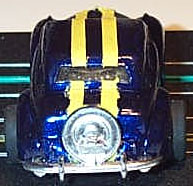 I wasn't sure what color I was going to paint the car. The blue and yellow were actually the most convenient colors to use. They were within my reach in the living room. Both are nail polish. Although nail polish is thick, it dries pretty quickly and has a great glossy finish (and there are some great colors available). The body used 2-3 coats of the blue, and the stripes took 3 coats. When that was all dry, I sprayed a coat of Testors clear gloss coat on. This gave a great luster, and eliminated all brush marks.
---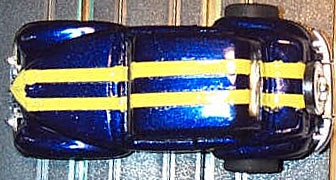 From the top you can see what a great blue color the nail polish has. I know the striping could have been better, but there are bumps and stuff on the body that taping is quite a chore. I think it still turned out very good.
---

Ratman's Bad-Ass Lincoln. This is where I got the idea to do this. The funny thing is that Ratman was ispired to slam his Lincoln after seeing the AML Rolls on this site.
---