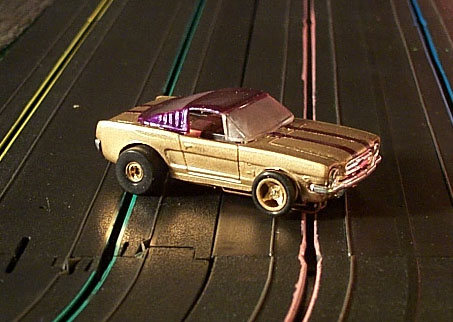 Since I got bit by the T-Jet racing bug in April 2000, I've been on the prowl for bodies that could be good racers. Light and low is the formula I try to achieve, so I looked for anything with good slamming potential. Fastbacks and anything with a high trunk were sought after. That's how I got started with this one. I cut out the interior and started to bring down the mounting posts.
---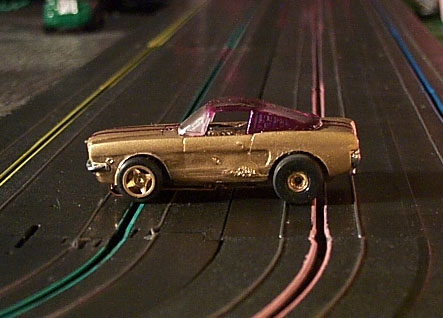 There was quite a bit more trunk than I anticipated. To get the body as low as I could, I had to Dremel the trunk as thin as I could. I had so much fun doing that, that I ended up taking the Dremel (I only used a wire brush bit to do the whole thing) to the entire inside of the body, getting the whole thing as thin as possible. I actually went too far on the driver's side door and nearly cracked the body in two. I made SuperGlue repairs (visible on the lower right of the door here). The result was a sloppy looking door, and this body slamming project turned into a custom paint project too.
---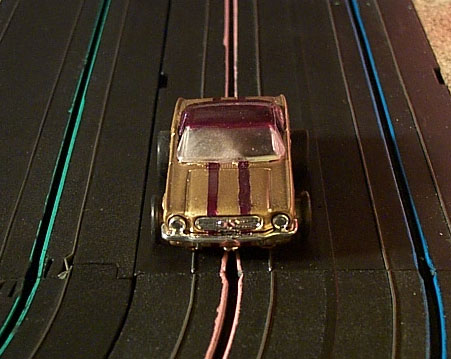 I had no Pine-Sol to do paint stripping, so I tried my luck with non-acetone nail polish remover. It worked like a snap! The purple paint came right off, and the glass got stained in the process. I was able to get the purple off the glass, but it left permanent "fog" on the windows.
---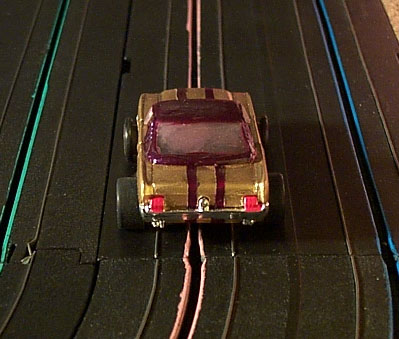 The paint is gold Krylon spray paint. The purple is nail polish with a pearl finish (which you can't really see in the pictures). It was an interesting project, and the results were pretty good. I'd do one again. This particular car is very fast, but I have yet to find the right tire combo to make it competitive against the top VHORS racers. I'll tryout an independent front end, and maybe some Thunder Rubbers or Special FX's on the rear.
---