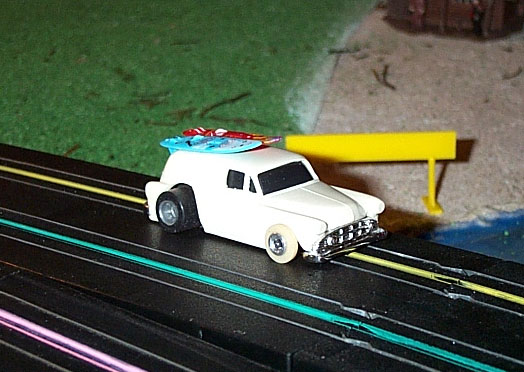 Nothing like a day at the beach. If I had room for more of the image, you'd see that there is a beach behind van, and the blue stuff is water. The surfboards were sacrificed from a couple of pull back Woodies. This stark white car was calling for something to add interest. I think the board on top did the trick!
---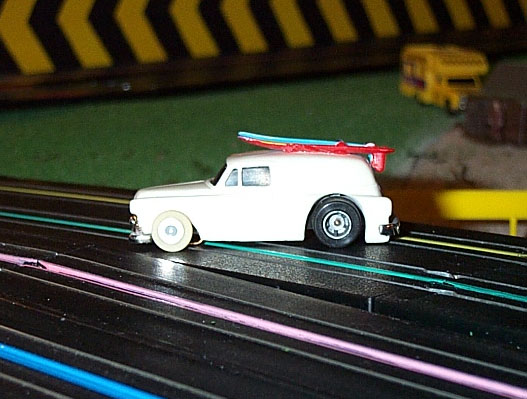 As you can see from this side view, the body (especially noticeable under the rear bumber) is a scant few millimeters off the track. This is a looooow-rider. Since this is a very heavy body, lowering the center of gravity is a more important function than just cool looks.
---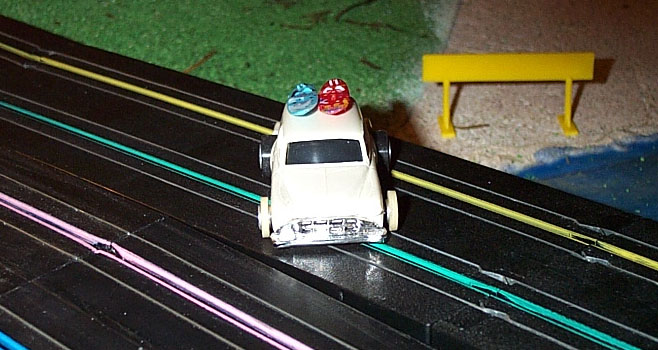 From this shot you can see the beach and water better. You can also see how the BSRT aluminum independent front end puts the tires completely outside the fenders, which prevents the need to hog out the front wheel wells. If you like the white tires, I'm afraid you can't get them any more. Well, not from BSRT anyway--they don't make 'em any more. You'll have to rummage through you local hobby shops or slot car show vendors to find them. This front is actually designed for the SG+ chassis, and is held in place with steel hex nuts for spacers.
---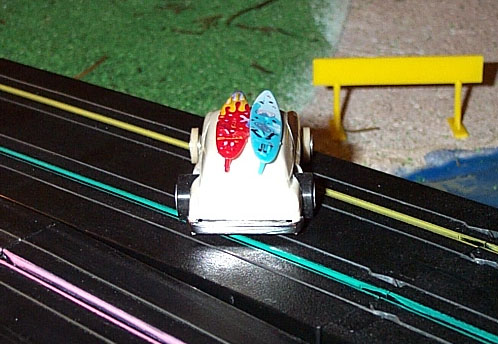 The van looks very stout at this angle, with the rear tires sticking out like that. The rear axle is AFX, with stock Tyco hubs, and Tyco low profile slip on silicon tires from Nostalgia Hobby. I put a good chassis underneath this body, but I think the weight prevents it from seeing it's full potentional.
---