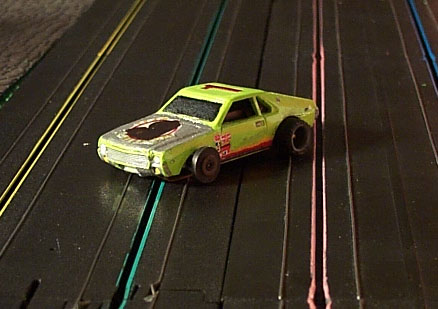 This is my car, the #1 car. Of the 3 Team Bigstuff AMX's this is the lowest, lightest one. The body was lightened with a variety of Dremel bits from grinding stones to wire brush. Through this process the body has been warped and beaten. The door panels hug the body more than a normal AMX, it takes a stance that almost makes it look like it's not an AMX, and the hood was cracked and repaired during it. A coat of Pactra Indy Silver covers the repairs.
---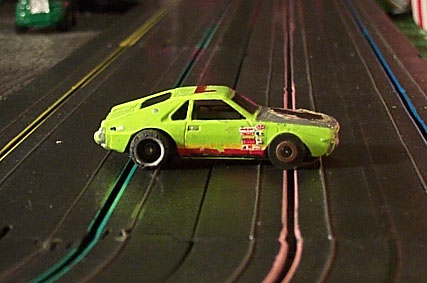 I'm proud of how low I was able to get the body--notice you cannot see the chassis of shoes behind the front tire. I actually lowered the rear too much. I had to examine the Vintage HO Racing Series rules to see what was allowed. I wanted to use a #40 washer, but the repair to the post needed to be plastic, so I used some scrap plastic that was on another runner of mine that also needed a post extention. I super glued it on and the car was good to go.
---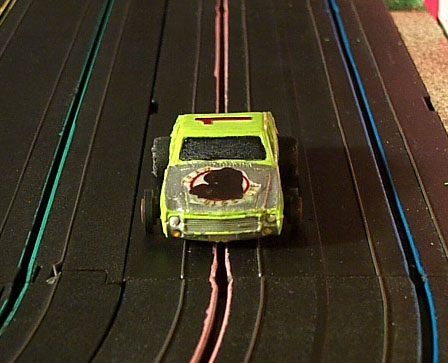 This car has a wide, aggressive stance, and a low center of gravity. That is what helps make this one of my best race cars. At the 11/12/2000 Paperboy Race, this car made a terrific showing. It is seriously dialed in to the Paperboy Raceway!
---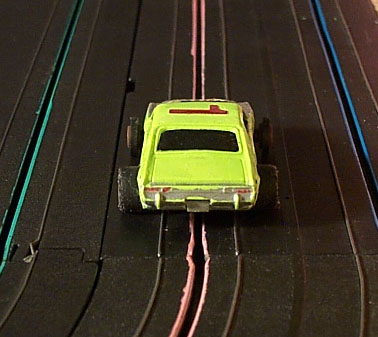 If you think the body is sitting crooked, you're right. I didn't lower the rear as straight as I should have, but the car still runs very well. If it ain't broke....
---